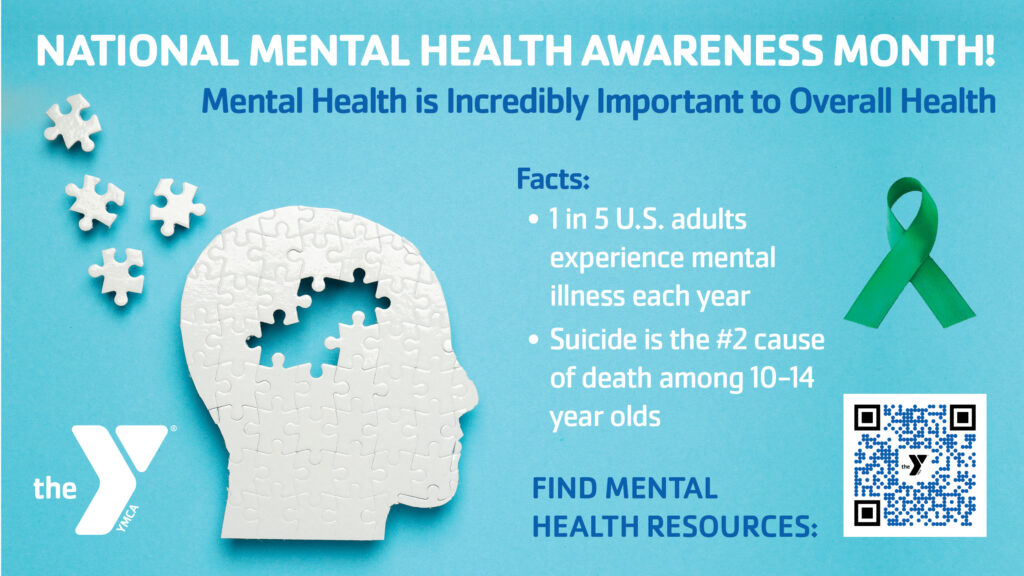 The YMCA is committed to helping building healthy spirit, mind and body for all. Our programs and facilities clearly help people exercise their bodies, which also benefits their mental and emotional states. Our programs bring people together to achieve personal goals in group settings. We're social beings, and this too helps our mental health.
In the month of May, we will try to raise awareness of the mental health crisis – worsened by the pandemic. We aim to raise awareness of resources for those dealing with mental health challenges, as well as their loved ones.
National Alliance on Mental Illness (NAMI)  
NAMI is the nation's largest grassroots mental health organization dedicated to building better
lives for the millions of Americans affected by mental illness
United Way 211 Hotline 
United Way 211 is a free and anonymous information and referral service available to anyone in Lucas, Ottawa or Wood County with a health or human service need. 211 has a database of over thousands of different health and human service resources for residents of Lucas, Ottawa and Wood counties in Ohio, and Lenawee and Monroe counties in Michigan.
988: Suicide & Crisis Lifeline to call any time
The Lifeline provides 24/7, free and confidential support for people in distress, prevention and
crisis resources for you or your loved ones, and best practices for professionals in the United
States.
YMCA360  
Free on-demand and livestream video platform (website and app) available to YMCA members;
the "Mind & Body" videos/classes may be of particular interest.
Area Office on Aging of Northwestern Ohio 
The Area Office on Aging promotes the health, well-being and safety of older adults, persons
with disabilities and family caregivers to foster independence.
Lenawee Department on Aging 
Monroe County Commission on Aging 
Ripple Effects of Mental Illness
Having a mental illness can make it challenging to live everyday life and maintain recovery. Let's look at some of the ways mental illness can impact lives — and how the impact can ripple out.
People with depression have a 40% higher risk of developing cardiovascular and metabolic diseases than the general population. People with serious mental illness are nearly twice as likely to develop these conditions.
 32.1% of U.S. adults with mental illness also experienced a substance use disorder in 2020 (17 million individuals)
The rate of unemployment is higher among U.S. adults who have a mental illness (6.4%) compared to those who do not (5.1%)
High school students with significant symptoms of depression are more than twice as likely to drop out compared to their peers
Students aged 6-17 with mental, emotional, or behavioral concerns are 3x more likely to repeat a grade.
Source: NAMI.org

If you're struggling mentally, or know someone who might be, take the first step by raising your awareness and understanding of mental health and the resources in our community that can help.